< Back to News
AWARD-WINNING ARCHITECTS OPEN 2022 YORK DESIGN AWARDS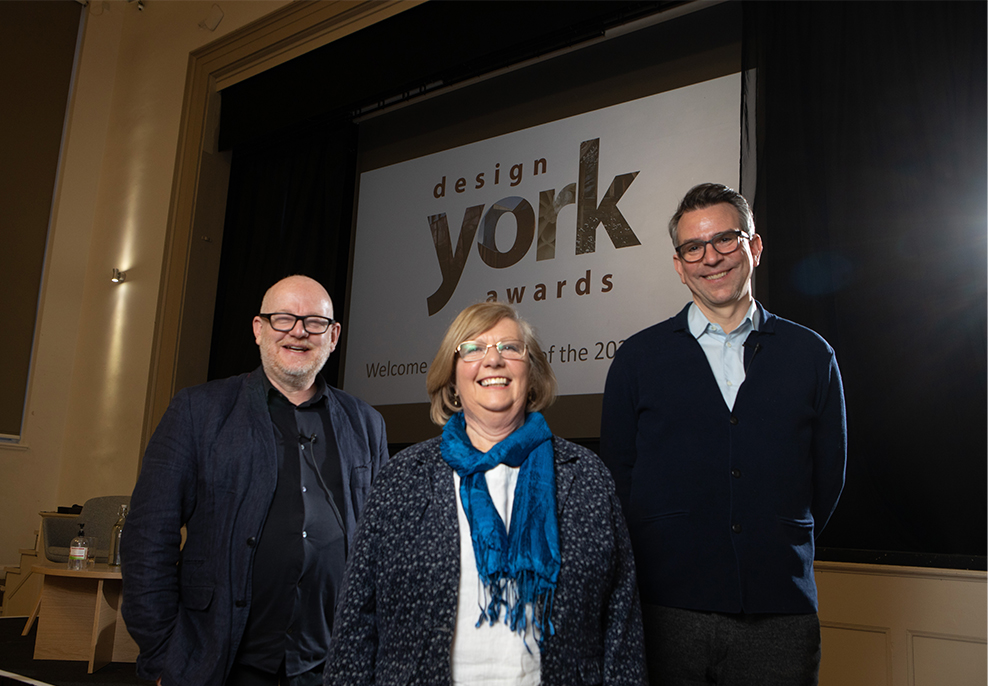 The 2022 York Design Awards have been launched with a thought-provoking lecture on "Designing the universities of the future".
David Patterson from Make Architects is creating the masterplan for the future development of the University of York's Heslington East and West campuses. He joined forces with Jon Roylance from ADP Architecture for the lecture and they shared their experiences of designing buildings for universities in Birmingham, Liverpool, Newcastle, Nottingham and Oxford.
A major theme was the development of university buildings that integrate the use of technology with well-being and sustainability requirements to support blended learning in a post-COVID environment.
The launch event took place at St Peter's School, a previous winner of a York Design Award.  The awards celebrate and promote good design across the city with categories for residential, commercial, community buildings, conservation/restoration and open spaces.  Property developers, housebuilders, architects, building owners and homeowners can enter their projects at www.yorkdesignawards.org before the closing date of 31st March.
Ann Reid, Chair of York Design Awards said: "David and Jon clearly demonstrated how creative thinking, architecture and design can deliver remarkable buildings that cater to the needs of the end-user, the local community and the wider environment. We're so pleased that they helped us to launch the 2022 York Design Awards.
"We urge the local property and construction community to submit their projects completed in the last five years for independent scrutiny and receive the recognition and reward that good design deserves."
Full details on the categories and how to enter the prestigious awards, are available at www.yorkdesignawards.org. Winners will be announced and presented with their awards at the presentation evening which takes place on Monday 4th July at the Yorkshire Museum.
Previous winners include The Chocolate Works new build phase 1, Little Knavesmire Sports Pavilion, The Rattle Owl, York Art Gallery, The Hiscox Building, York Racecourse, St. Everilda's Church extension and the restoration of the Old Probate Office.
The awards programme operates with the generous support of a number of sponsors who have a strong association with the city including Shepherd Group, O'Neill Associates, Innovate Associates, LEDA, York Architectural Association, York Civic Trust, York Conservation Trust, City of York Council, The Partners Group, United By Design, Ravage Productions, Crombie Wilkinson, Fulprint, York Explore, York Press and Malmaison Hotel.