About
York Design Awards celebrate and encourage good design in the city. Good architecture and sensitive building restoration play an important part in what makes York such a special place, routinely topping UK cities' quality of life surveys.
York Design Awards' mission is to support that for the future and to encourage designers of new developments in the city to maintain the very highest standards – to create buildings and spaces that 'delight'.
Founded by former Lord Mayor of York, Janet Hopton, the awards scheme is funded entirely by independent sponsors and donors and is run entirely by unpaid volunteers.
Awards, judged by an independent panel including eminent national and international figures in architecture and design, are presented annually in a range of categories with the scope for more than one award in each category (with the exception of the Lord Mayor's Award).
Homeowners, building owners, architects, developers, restoration and construction companies are all encouraged to submit schemes for consideration. The judges have praised the inclusiveness of the awards scheme which recognises the role of good design not just in major developments but also in smaller schemes, restorations and extensions and in the public realm.
Alongside the judges' choices, The Press (York) sponsors "The Press People's Choice Award" where local residents vote for the scheme which most 'delights' them.
Our aim
The York Design Awards aims to recognise the importance of new construction and landscape projects in the city, celebrating 'the spaces in between', the setting of buildings plus open space and public realm.
The principal aim of the York Design Awards is to encourage architects, developers, owners, planners, conservationists, to aspire to, achieve, and ensure excellence in new build and in conservation schemes within the City of York Council local authority boundary (completed within the previous three years).   York has a wonderful legacy of architecture from the past but much of what was being built in recent years running up to 2006, as elsewhere, was bland and unremarkable, not a fitting legacy for the 21st Century.
There are excellent architects and craftsmen, with a variety of high quality conservation and other skills, available in the city and, by highlighting their work, the Awards hope to raise aspirations generally.   With several major developments in the pipe line, there is a great opportunity for developers to contribute to York`s future heritage and it is crucial that the city continues to attract the best developers from outside the city – those aspiring to the highest quality of design, bringing design talent and construction expertise with them.
How we judge entries
An essential aspect of the York Design Awards is having a panel of four independent judges from outside the city. Most of our judges serve for three or four years. They have expertise in architecture and conservation and are known and respected for their work regionally, nationally and internationally.
Each year the panel site visits over two days every scheme entered. Reflecting the great wealth of creative development taking place in and around York, this involves assessing more than thirty entries every year. Each is assessed on five criteria:
quality of design and build
context
materials and workmanship
sustainability
ability to delight
Awards are given to schemes which the judges consider attain an extremely high standard, so there can be more than one Award in a category. This means judges are not restricted to selecting the best scheme in each category – nor indeed any scheme in a category. The exception is with the York Press People's Award. Here it is the city's residents who solely get to decide and our judges have no involvement in making the decision.
Judges
Andy Davey
Andy Davey is the senior partner at Simpson & Brown Architects, based in Edinburgh, which specialises in the scholarly conservation of historic buildings, the adaptive re-use and remodelling of existing buildings, and the contextual design of new buildings in sensitive historic or landscape settings. The firm aspires to be one of the leading 'creative conservation' practices in the UK and works on a wide range of projects at home and abroad.  Andy trained at the Bartlett School of Architecture at University College London and has been responsible for many of Simpson & Brown's more prestigious commissions, including the recent multi-RIBA Award winning projects for the Centre of Ceramic Art at York Art Gallery and the acclaimed new Visitor Centre at Rievaulx Abbey. He also has a decidedly odd and inexplicable interest in heritage potato varieties.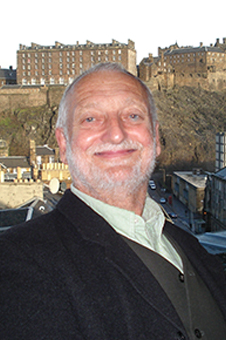 Brian Edwards

Brian Edwards is an architect and served on the RIBA Energy and Environment Committee for many years. With an MSc from Heriot Watt University and a PhD from Glasgow University he has focused as an academic and practitioner on sustainability in building design. His various teaching and research positions include Glasgow School of Art, Strathclyde University, Huddersfield University, Heriot Watt, Edinburgh University and the Royal Danish Academy of Fine Arts. In 2008 he was made Emeritus Professor of Architecture and Landscape Architecture at ECA, Edinburgh University. The author or co-author of 20 books, most recently co-authoring the book 'Green Buildings Pay' (2000, 2013 and 2016) which evaluated the performance of a number of green buildings in Europe and North America.   He has practiced in the past as an architect with RMJM in Edinburgh, Feilden and Mawson in Norwich and Wade Stockdill in Vancouver and as a conservation and urban design architect in numerous local authorities. He is currently a research assessor for InnovateUK focusing on sustainability.
Janine Riley
Janine Riley is a conservation architect with experience of private practice, education and local government. In the rapidly growing practice of Martin Stancliffe Architects she worked on many special buildings and sites for the National Trust, and was project architect on Culloden Tower and Beamsley Almshouses for the Landmark Trust (both award winning schemes).
As senior lecturer at Huddersfield University, and in response to the new "International Degree (RIBA pt1) and Master of Architecture (RIBA pt2)" courses, Janine broadened the scope of History and Theory modules to include an understanding of very different development contexts. During this time she worked on conservation projects with the agency caring for the Medina of Fez Morocco (UNESCO World Heritage Site) and with the New Delhi Planning School.
More recently Janine had the privilege of being the Conservation Architect for City of York Council (16yrs), advising on all aspects (except archaeology) of the historic built environment from small schemes of repair/alteration/new build to major sites of renewal such as the Terry's Factory site and Red Lodge at New Earswick Garden Village – the latter schemes in collaboration with planning colleagues.
Nicky Watson

Nicky Watson is a Director of award-winning JDDK Architects in Newcastle. She is RIBA Vice President for Education and RIBA Council member for the North East Nicky's work in the practice as a hands-on architect has been diverse, including in the health, education, veterinary, tourism, residential and commercial sectors, often focusing on projects within the community where complex briefs require extensive interaction and consultation with the end-user clients and members of the public. Designing within sensitive culturally, ecologically and historically significant settings is a common part of Nicky's work across a number of development sectors. Nicky has sat on a number of design award judging panels including for RIBA North East Awards. She is a regular visiting tutor and lecturer at Northumbria University's Department of Architecture and the Built Environment on both BA and MArch courses. In 2017 Nicky was made a Visiting Fellow at Northumbria University. Nicky speaks regularly in local schools promoting architecture as a career and is passionate about improving equality, diversity and inclusion within the profession.
History
The first York Design Awards evening was held in 2007 at the Mansion House, moving to the Merchant Adventurers Hall in 2008. Subsequently the venue for the annual Awards Evening has been an award winning building from the previous year – York College, University of York`s Berrick Saul Building, York St. John`s De Grey Building, Yorkshire Museum, University of York`s Film, Theatre & Television Building, and for 2014, Nestle Product Technology Centre.
This has been an attractive and fascinating aspect of the awards and the generosity of the various organisations involved in allowing us to use these special buildings as venues for the Awards Evenings has always been greatly appreciated.
From the start, the organising committee has included both representatives from relevant organisations across the city and interested individuals. Representation on the committee currently includes City of York Council, York Guild of Building, York Civic Trust, York Professionals, York Archaeological Trust, York Architectural Association and York Consortium of Craftsmen & Conservationists.
Educational outreach
A display of entries has been a feature of the Awards Evening reception and, in 2008, we worked with four students and their tutor from York St. John University who created the display as part of their design coursework, a rewarding experience on both sides.
Another educational opportunity arose in 2013, this time with York College, and has continued. A class of Building Construction students assessed the entries as a paper exercise, using the same criteria as our judges, to decide which they thought was best in each category.
Mindful of its core purpose, the York Design Awards also engages in the city with other relevant activities and initiatives: the University of York Festival of Ideas, and the RIBA 'Love Architecture' Festival in York 2012.